Streets of Fire: Bruce Springsteen in Photographs and Lyrics 1977-1979

128 pages.

ERIC MEOLA first saw Bruce Springsteen perform at Max's Kansas City in New York in 1973, and began photographing him the following year, just before the release of the breakthrough album, Born to Run, for which Meola shot one of the most iconic cover images in the history of rock photography.  Meola continued photographing Springsteen during 1977-79, as the music for Springsteen's fourth album, Darkness on the Edge of Town, was recorded.  Meola photographed him in his Manhattan photo studio as well as at the farmhouse Springsteen had rented in Holmdel, New Jersey, and captured images of Springsteen behind-the-scenes—getting his Corvette stuck in the mud, riding his motorcycle, getting a ticket from a New Jersey trooper, and driving a convertible across the American West. 

Many of the images in this book have never been seen before, and show a young Springsteen soon after appearing on the covers of Time and Newsweek.

This carefully curated collection of images gives us a revelatory look at Springsteen as he was coming to terms with his newfound success and creating the music for his fourth album, Darkness on the Edge of Town. Complete with an introduction from Meola, an insightful end-of-book essay by Joyce Millman, and running lyrics to several of Springsteen's songs, this book also shows how Meola's evocative portraits reveal Springsteen as he really was—an artist at the crossroads of his fledgling career, writing about dark themes and finding redemption through his own words and image.

An intimate, behind-the-scenes look at Bruce Springsteen as you've never seen him before. This collection includes more than seventy black-and-white photographs by photographer Eric Meola, lyrics by Bruce Springsteen, and an essay by Joyce Millman.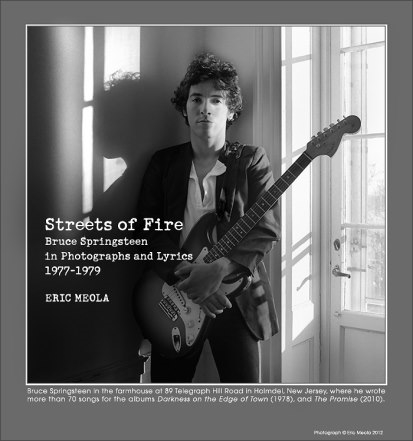 On Nov. 9, Meola will visit Monmouth University in West Long Branch, NJ. for a presentation and book signing. The signing, in the University's Wilson Hall auditorium, will include an illustrated discussion of the days Meola spent with Springsteen between 1977 and 1979 in Meola's Manhattan studio, in Springsteen's rented farmhouse in Holmdel, NJ, and on a trip across the American West. 

Meola's appearance is sponsored by The Friends of the Bruce Springsteen Special Collection.  Doors to the auditorium, at 400 Cedar Avenue in West Long Branch, open at 8 p.m.  A very limited number of books will be available for purchase at the signing.  However, attendees are strongly encourage to pre-order copies to be claimed at the event.  Autographed copies can also be ordered for shipping,
please click the corresponding PayPal link below.
The cost for each Eric Meola autographed copy is $30.00 plus $8.00 for mailing within the United States and Canada or $30.00 plus $25.00 for mailing outside the United States and Canada.

To guarantee an autographed copy, orders MUST be received by 11:00 PM EST on October 31, 2012.

Thank you for supporting the Friends of the Bruce Springsteen Special Collection!

(Price includes $8.00 shipping. Total $38.00 each)

(Price includes $25.00 shipping. Total $55.00 each)

TO GUARANTEE AN AUTOGRAPHED COPY, ORDERS MUST BE RECEIVED BY 11:00 PM EST ON OCTOBER 31, 2012